Professional Cordless Electrostatic Sprayers
Baker Cleaning Solutions proudly partners with Victory Innovations
We thrive on innovation.
Baker Cleaning Solutions is a division of Baker McMillen Co., established in 1874. Baker has been serving the cleaning industry for over 40 years. In 2016, we partnered with Victory Innovations to provide professional cordless electrostatic sprayers that make our hospitals, schools, and communities safer by setting a new standard.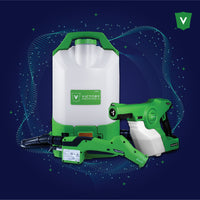 Proven electrostatic technology combined with the Victory patented cordless 2X charge provides superior professional results
• Touchless Application
• Reduce Cross Contamination
• Easy to Operate
• Liquid Adhesion & Coverage
• Portability
• Electrostatic Wrapping
• Cost Effective & Easy to Implement
• Dwell Times
• Eco Friendly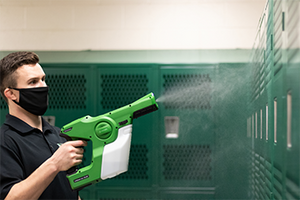 Easy to Operate
Maneuver effortlessly from room to room — free of extra weight and tripping hazards — with Victory cordless electrostatic sprayers. The touchless application means you don't have to wipe anything up, reducing the risk of cross contamination.
Full, Fffective Coverage on High-touch Surfaces
Electrostatic sprayers from Victory Innovations create a positive charge that drives your disinfectant solution directly to high-touch surfaces, wrapping around curves and reaching into corners and crevices for full, effective coverage.
Save Time & Money
Victory electrostatic spray systems enable quick and effective chemical application. Apply solutions up to 70% faster and use up to 65% less solution to cover the same area.
Leading the Charge
Baker Cleaning Solutions strives to deliver only the best electrostatic spray disinfection systems to hospitals, schools, and communities across the country. Whether you're tackling sanitization, decontamination, or odor control, you'll find the solution here. Our professional cordless electrostatic sprayers are the new standard in infection control—get yours today.